Furnace Puffback Cleanup Services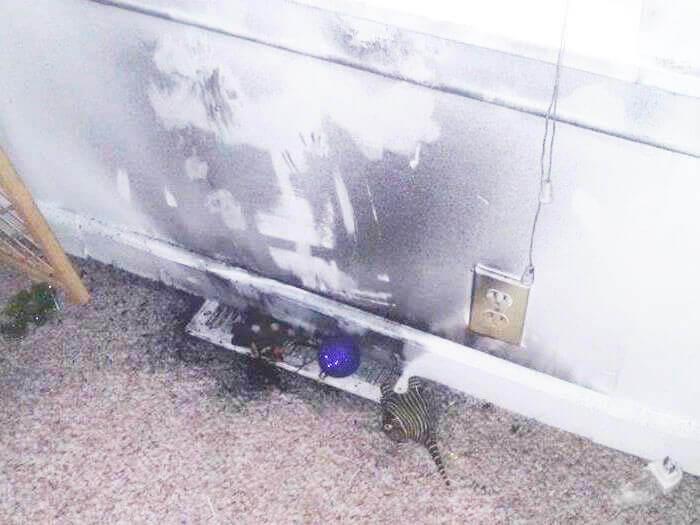 Soot damage is traditionally attributed to the aftermath of a house fire or the results of a furnace or boiler malfunction (also known as puff back). The oily and gaseous properties of soot make it one of the most difficult substances to clean up, especially if not addressed in a timely manner. In addition to coating surfaces with an oily and gaseous (carbon) residue, soot can permeate into just about every nook and cranny in your home, leaving behind a horrible smell that can't be removed by conventional cleaning methods.
Trust your local experts! Elite Restoration and Construction Inc is a locally owned and operated company servicing Suffolk & Nassau Counties, New York. We provide professional solutions for smoke and soot damage. Whether you're experiencing an unpredictable house fire or dealing with an unknown malfunction in your furnace or boiler, we're here to help. Awareness and quick action can make all the difference when it comes to minimizing soot and smoke damage.
When you think a puff back has occurred, don't attempt to clean carpets, upholstered furniture, wallpaper or flat-painted walls. The incorrect cleaning from damage due to a puff back will compound the problem. The best cause of action is to avoid touching anything, as the soot on your hands can further stain upholstery, walls, and woodwork and make things much worse.
We recommend that home and business owners call Elite Restoration and Construction Inc at 631-567-0070 or 516-336-4310 for furnace puffback cleanup.
Our Furnace Puffback Cleanup Process
Removal of soot and oily residue
Cleaning agents on affected surfaces and contents
Deodorize
What causes puff backs in Suffolk & Nassau Counties, New York homes?
The most common cause for puff back is excess fuel in the bottom of the furnace and firebox, clogged orifices in the furnace burner nozzle that results in delayed ignition or a heavy build-up of soot within the burner. Puff backs happen most frequently in old oil-fired furnaces and can also occur in a gas heating system. Additionally, in a forced hot air system, the ignition explosion can shake loose and blow out any soot or soil that has accumulated in the ductwork, further contributing to the severity of the loss. Puff back usually occurs when the furnace is turned on for the first time in the fall or during the start of cold weather.
What kind of damage can it do to Suffolk & Nassau Counties, New York homes?
Damage from puff back can appear in a wide variety of ways, for example, the damage may look like dust that reappears after cleaning or smearing on various surfaces, dark fingerprints that appear on almost every surface along with soot webs that look like regular cobwebs, but are darker and soot around heating ducks and electrical circuits.
It is important that the cleaning process begins immediately to prevent further damage and limit insurance claim amounts. Within hours, acid residue will stain grout, fiberglass fixtures and Formica countertops. Appliances and vinyl windows will begin to discolor as well as finishes on furniture. Within days, metals will become corroded and pitted; walls yellow permanently. Within weeks crystal, glass and china may become permanently damaged from etching. Carpet fibers yellow permanently.